Alternative Events for 2020
With the cancellation of Convergence for 2020 there are some smaller events happening as outlined below. Please note these are being organised by people who have attended Convergence in the past, but are not official Convergence events.
Dec 29th- Jan 4th Converging 2020 at Journeys End Campsite
An event in the Spirit of past Convergence events at the Journey's End site.
The Theme – Emergence
You are invited to help  co-create a simpler, stripped back event with less infrastructure, more spontaneity, self-responsibility and of course plenty of connection, magic and sharing.
The first hundred places are available now. This event is limited to people who have been to at least one Convergence event or are accompanied by a previous attendee. Guidelines and rules from the past Convergence events do not change – no money exchange, no drugs, no alcohol, no bikes, no dogs, etc.
An evening meal will be provided. 
To register follow the link below. Payment secures your space.
http://events.r20.constantcontact.com/register/event?oeidk=a07ehd2fy3o634865b5&fbclid=IwAR1OXA2BX5O0EBs7UN2mCTw_aJHdH1GF1f-53f9cZPyJ3IdqP4eJj33tI80&llr=6bjno5abb
28 Dec-3 Jan at River & Sarah's place nr. Motueka (Top of the South)
Relaxed camping event for up to 50 people on a 2ha rural property of paddocks & gardens. The property has a variety of spaces for workshops, circles, gathering, shared meals etc, which will all be co-created by the participants.
The gathering participants will self-cater.
Children welcome. You will need to bring entertainment for them.

Sorry but no dogs.

Access for caravans, campers etc. Some beds are available. There are cooking/washing facilities in the huge shed and also in the large house.
Cost: $5pp/per night, up to max $20 per person. Children koha.
Contact sarah@somenicename.co.nz for bookings and more information.
Convergence

Event 2020/21 Cancelled

The Convergence community is very dear to all of us and the Convergence gathering is a cherished community event that is a highlight of the year for many people.

The role of the Convergence Trustees is to ensure the ongoing future of the Convergence Gathering. Due to the Covid-19 virus, there are a number of considerations this year that could affect the future of the event, which is why the event has been cancelled this year.

Responsibility

The decision to NOT have Convergence this year made by the group that have been actively involved in organising the event is all about taking responsibility for the welfare of the whole group. There are a number of things that someone has to take responsibility for, for Convergence to happen. This year Covid-19 has added another layer to the complexity of organising Convergence.

It is heartening to see that the call for smaller events has gained support and there are people willing to be a part of these. Please note that this will NOT be a Convergence Event without the support of the Convergence NZ Trust who are the legal entity that is responsible for running the event.

This responsibility required to run the event extends to many aspects of the event that may or may not be seen.

Responsibility for Safety of Attendees

This is especially difficult this year due to Covid-19. While there is a small chance that an attendee will bring the Covid-19 virus to the event, if it happens the consequences are severe. We have had experience in the past of sickness spreading during the event. It is extremely difficult to provide adequate hygiene and social distancing at Convergence. While death rates in NZ remain very low it is BECAUSE OF DECISIONS that have been made to prevent the spread of the virus. There are also other health issues associated with the virus such as lung and heart damage which are not fatal, but could be life changing. If anything was to happen the media is likely to dig into the other aspects of the event that are non-compliant or make for juicy click-bait headlines

Responsibility for Journey's End Campsite

It might be some people's intention to leave the site better than when we arrived, but the Journeys End Camp Committee notice the things that are not done. During Convergence there has been destruction of campsite property, grass on furniture and things moved around on site. Mattresses, pots, plates etc are moved around on site and left in places they do not belong. The final pack down has been poorly handled recently as no one has been prepared to take responsibility for pack up.
Journeys End Campsite is currently only licensed for use of the Leigh Lodge building with a Certificate of Acceptance in place. The camp committee has received funding to upgrade Amberley Lodge and toilets and showers are unavailable this year while renovations are underway. Until this is completed Journeys End is not licensed to operate as a campsite. If something were to happen at the Convergence event this could have an impact on our ability to use the Journeys End Campsite in the future.
Even though the campsite is hired much of the preparation for the event has been completed by members of the Convergence community, including preparing the site, mowing, firewood and general site maintenance. A small group has taken responsibility for this at working bees up until this point. There are a number of things Convergence is required to do to assist the Camp Committee in achieving compliance for the site. This includes building a wood shed, tidying up next to and on top of the container and making some changes to the roof over the container.
Responsibility for Food and Food Safety
There is a huge amount of preparation required for the kitchen to produce the food that is provided during the Convergence event. This food needs to be purchased well in advance of the event and some of it is specifically grown for Convergence. It cannot be organised at a moments notice. Tickets normally go on sale in October so we can have some idea of numbers attending Convergence to make ordering for the kitchen easier.
Cooks are required to be organised for the event and this can be done, but at present we have a limited commitment to take on this role. Many of the woofers that volunteer in the kitchen are travellers from overseas and the border closures due to Covid-19 will prevent this group from attending Convergence. This puts additional work on the cooks, who are already feeling overworked to deliver the standard of food that has been maintained at Convergence.
Responsibility for Hire Equipment
There is a requirement to place bookings for marquees, chillers, cooking equipment, sound equipment, toilets, additional showers prior to the event. Some of this requires deposits to be paid or hire charges to be paid in advance. With the possibility of going back into lockdown with 24 hours notice it makes it extremely difficult to organise the equipment required for an event. Covid-19 is still in the community and border controls have been unable to prevent it spreading even after it was eliminated in NZ.
Responsibility for Legal Obligations
The Convergence NZ Trust is the entity established to meet the legal requirements of the Convergence event. The trust is the backstop which takes responsibility for meeting all of our legal obligations including bank accounts, tax obligations, insurance and supplier agreements. This also provides a level of protection to the individuals involved running the event and removes them from personal liability. The Trust organises Public Liability insurance, but there is no cover for a global pandemic as this is specifically excluded in every insurance policy.
For the ongoing future of Convergence a year off was a sensible decision. If you would like any clarification on any of these points please Contact Us.
Location
Convergence is held at the Journeys End Campground on Smarts Road, in North Loburn.  The site is about 40 minutes from Christchurch, New Zealand and is in the base of the foothills across the Ashley river inland from Rangiora.  The site is at the end of Smarts Road and surrounded by the Grey river.
How to get to Journeys End Campground
Journeys End Campground is now on Google Maps.  Search for Journeys End Campground, Smarts Road, Loburn.
Directions NORTH from Christchurch
Travel north from Christchurch on Highway 1, once on the Motorway take second exit after Waimakariri River bridge "Ohoka/Kaiapoi Exit"
Turn left at top of exit ramp and turn right at the T intersection. This road takes you to Rangiora. Follow the "Ashley/Loburn" signs through the Rangiora township.
Go over the Ashley River bridge, straight ahead past the "Sefton" turn off and turn right at the end of the straight. This turn off is in the middle of the 85km sweeping left bend, just after the "Welcome to Loburn" sign.
Continue on Carrs Road for 10km of tarseal, then reduce speed and continue straight ahead for another 4.2km on gravel road (take care when passing livestock and horses).
At the top of the rise continue on the road past the Journey's End Farm,down the hill. The entrance to Journey's End Campground is through the second gate on your left.
Directions SOUTH from North Canterbury
Travel south on State Highway 1 to Amberley, turn right at the "Inland Scenic Route" sign post and follow "Inland Scenic Route" signs along the  road through Sefton towards Loburn.
Turn right at the Loburn/Rangiora T-intersection, then turn right at the end of the straight. This turn off is in the middle of the 85km sweeping left bend, just after the "Welcome to Loburn" sign.
Continue on Carrs Road for 10km of tarseal, then reduce speed and continue straight ahead for another 4.2km on gravel road (take care when passing livestock and horses).
At the top of the rise continue on the road past the Journey's End Farm, down the hill. The entrance to Journey's End Campground is through the second gate on your left.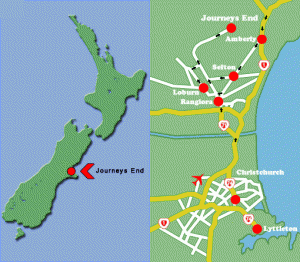 Timetable
Convergence runs to a loose structure that has evolved over the years. This is of course subject to change and any times listed are purely guidelines. A watch is not required as Convergence can easily revolve around the signals for morning circle and meal times.
27th December
12 midday site open for Convergence
Self catering for meals prior to 29th Dec.
Evening meal will be provided on 28th for those who participate in set-up.
Start set-up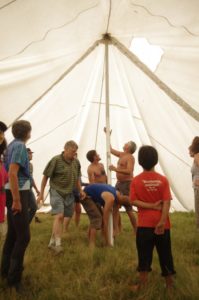 28th December
General arrival day and setting up site.
Self catering for meals
29th December
9am                                 Opening Ceremony
Next                                Creating Community
Then                                Lunch
Then                                Creating Community continues
Then                                Dinner
Then                                Open Mic Night
30th December
9am                                  Morning Circle
Next                                 Meal preparation / Workshops / Playshops
Then                                 Lunch
Then                                 Meal Clean-up/ Meal preparation / Workshops /
Playshops
Then                                 Dinner
Then                                 Evening Entertainment
31st December
9am                                  Morning Circle
Next                                 Meal preparation / Workshops / Playshops
Then                                 Lunch
Then                                 Meal Clean-up / Meal preparation / Workshops /
Playshops
Then                                 Dinner
Then                                 New Year's Eve Celebration
1st to 2nd January
9am                                  Morning Circle
Next                                  Meal preparation / Workshops / Playshops
Then                                 Lunch
Then                                 Meal Clean-up / Meal preparation / Workshops /
Playshops
Then                                 Dinner
Then                                 Meal Clean-up / Entertainment
3rd January
10am                                Closing Ceremony
Next                                  Meal preparation
Then                                 Lunch
Then                                 Meal Clean-up / Commence clean-up of site
Then                                 Dinner (prepared from left-overs)
4th January
9am                                  Co-ordinate pack-up of site
Next                                  Lunch (prepared from left-overs)
Then                                 Continue pack-up of site
Then                                 Dinner (prepared from left-overs)
5th to 7th January
Site available for those that wish to stay on – you may be required to cater for yourself during this time.

Things to Bring
Whether you are a Con-vergin (first timer) or a Con-verget (veteran) there are a number of things you could bring to make your time more enjoyable.
Essentials to bring
Eating bowls, plates, cups, cutlery, water bottle, tea towel and a carry bag for these.
Sleeping gear, mattresses, rugs, groundsheets, cushions, torch, chair
Breakfast, drinks, snacks  (No refrigeration available)
Sun-block, insect repellent, first aid kit, toilet gear sunglasses, towels, gumboots, swimsuit (optional), warm clothes as it can get cold!
Love, lightness and laughter!
Optional items to bring
For Music and Dance: guitar, drums, flute, voice…or whatever you play.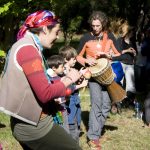 For Creative Nature Space: bio-degradable craft resources, newspapers, dress-up clothes, string, hemp, glue, egg cartons, corrugated cardboard, cane, feathers, seashells, fine copper wire, balloons, end rolls of newsprint, poster paint, brushes, old sheets.
For Main Marquee, Nurture Space, Kitchen/Cuddle Cafe, Chapel etc: big cushions, incense, candles and holders, wall hangings, music, tissues, towels, sacred objects, icons, plants, flowers.
For the Cabaret or New Years Celebration: Your favourite elegant clothes or costume for dressing up or dressing down.
Camping
This is possible in 3 main areas, namely around the main field, near Leigh Lodge and a 'car free' walk in-area further downstream.
Due to the possibility of strong to gale force winds, only sturdy and well-anchored tents are suitable.
A communal sleeping marquee is available you'll need a ground sheet, camp mattress, sleeping bag or similar.
Meals
Vegetarian and vegan buffet lunches and dinners will be provided every day during the event from 29th December until the 3rd January. Please note the meals are strictly vegetarian and do include a lot of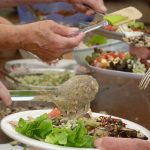 vegan, soy free, nut free, gluten free dishes to cater for the majority.   If you have special dietary requirements, health issues or allergies, you are advised to bring some supplies of your own to supplement what is available. As much as possible, the food will be organic and GE Free. Everyone is encouraged to help with preparation and clean-up after meals.
Please bring your own breakfast foods, snacks and drinks. Hot water is available in the 'Cuddle Cafe' area of the kitchen for hot beverages.
The first community meal will be lunch on 29th December. An evening meal will be available on 28th December for all those who assist with the set-up.
Meal times may vary during the event. Please ensure that you bring snacks for your children for between meals.
Meals are signalled by an air-horn (3 short hoots), blessing 15 minutes later.
Lunch and Dinner are served at the Main Marquee following a short blessing. Your pendant is your event ticket and proof of your membership at this year's event. Thank -you for wearing it to meals.
Meetings
Morning Circle: This is something you want to be a part of! Any group activities can spontaneously occur! (maybe you have one in mind)  each morning at approximately 9:00 am at the Main Marquee. This is often time to play with the whole group and feel the heart of the community aspect of Convergence.
Morning circle will be signalled by the sounding of an air-horn (1 long hoot) & start 15 minutes later.
Amenities
Networking Tent: This is a place were you will find information about daily workshops, housekeeping matters and general information, as well as communication with other Convergees.
Wash up of personal dishes and cutlery occurs at the basins along the outside wall of the main hall/kitchen area. Food scraps go into plastic compost buckets.
Toilets: The site has male and female flush toilets opposite the Amberley Hall/kitchen building. There are 4 composting toilets at the north side of Main camping field. You are encouraged to use these. (Small amount of mulch added to the waste after you have finished). Another composting toilet is located at the south end near the Octagon. Portaloos are also located around the site as shown on site map.
Showers: Amberley Lodge (by outside baths) 2 showers available inside. 2 showers are available outside of Leigh Lodge (same as 2017/18).
First Aid: please provide your own first aid kit. A first aid room is located at the 'Pines Hut' behind Amberley Hall/kitchen and beside Amberley Lodge. 1st Aid volunteers are also identified by small red cross patches.
Found Property is located outside the entrance to the Amberley Hall/ Kitchen (near wash up area). If your property is still missing after the event, check the lost&found page.
The Heart Cave (Chapel) is a sacred place, the spiritual centre of the event. Thank you for respecting this and for being mindful when near it of people who maybe meditating inside. Feel free to place meaningful objects & photos in here. Thank you for respecting that these items belong to someone and leave them where they are placed.
The areas near the workshop tents, massage tent, and nurture space are also places to be mindful of excessive noise. Once again thank you for respecting these places.
Cuddle Café is located in the far end of the Amberley Hall accessed from the doors on the North wall. Hot water & herbal teas are available here. This is a comfortable space to rest and/or chat with others.
Water: All tap water on-site is filtered and safe to drink.
Workshops: If you wish to offer a workshop please email workshops@convergence.net.nz for a workshop form. Workshops are given freely by participants of Convergence.
There are 5 main Workshop Marquees available they are labelled 'Water', 'Fire', 'Earth', 'Wood' and 'Air' on the site map. Other workshops maybe offered in places such as the Nurture Space, Massage Tent or The Circle.  Workshops will begin after Morning Circle and in the afternoon afterlunch.  To find out more about workshops check the Networking Tent and listen tothe announcements by the workshop presenters at evening meal – for following morning workshops and at lunch for the afternoon workshops.
Cell phones: Due to limited reception cell phones are unlikely to work on site. In case of emergency please go back down the road until reception is available.
Parents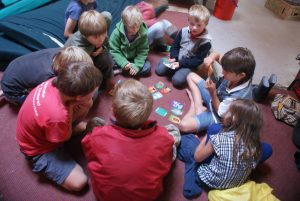 As primary caregivers you are responsible for the children in your care at Convergence.
Creative Kids Space: This is an area that has paint, paper, books, dress-up clothes etc supplied for you to use with your children.  Feel free to bring other items with you.
There will be opportunities to meet other parents and organise/assist with activities for the children to participate in.
Snacks: Bring snacks as meals aren't necessarily when your child will want food.
Cuddle café please respect that this is a space to quietly relax and chat to others.
Further Tips
To help with preparation and making your experience more enjoyable, we have collected a few tips below.
More info:

 For lots of info and a list of what to bring, see https://convergence.net.nz/event-details/.

Rubbish:

 There is no rubbish disposal other than food scrap compost! You must take your own rubbish back. Pack it in, pack it out!

Crockery:

 Bring your own plates and mugs, and wash them yourself. Teatowels are not provided.

Fridge/Freezer:

 There may be less fridge/freezer space available this year; please bring as few perishables as possible.

Light:

 Most of the site is unlit at night to celebrate the natural setting, so bring a reliable torch or two.

Mobiles:

 There's no cellphone reception on site. Areas with reception are 0.5km–5km up the road, depending on your phone. It's an opportunity to take some time out and immerse yourself in the physical, not the virtual.

Showers:

 Bring a solar shower if you have it, shower facilities are limited. (This year in particular.)

Massage:

 Massage tables are provided for people to exchange massages. The facilities are provided, but not the service — giver and receiver volunteers need to match up themselves. Tables need to be protected and completely covered with 2 large towels; bring your own or share the ones provided.

Large towels:

 Bring several bath/beach towels, especially if you want to use the massage tables.

Wind + tents:

 Strong winds are possible, any tent would want to be sturdy and well-anchored. Bring tent repair gear too, like pole segments and duct tape.

Sleeping:

 A communal sleeping marquee is available — you'll need a ground sheet, camp mattress, sleeping bag or similar.

Octagon camping (car free walk in-area):

 It is not possible to take cars or campervans there by either road. Both roads are now 4WD only, and may become impassable after rainfall. There is only an old longdrop, and no water supply.

Flooding:

 Low-laying areas below Leigh Lodge are likely to flood in bad weather and are not recommended for camping. If you insist on camping there be prepared to move in the wee hours at short notice!! i.e. you're on your own and the complaints department is closed for the holidays.

Amberley Lodge:

 Bring a torch at night to use the toilets or showers. The power is off everywhere except for the lights in the hallway.

Toilets:

 There will be lots of composting toilets but no chemical ones this year. Very few flush toilets are available so don't miss the introduction to composting toilets.

Lost&Found:

 Each year there is a large heap of items that were left behind. If you put your mobile number on your things you are much more likely to get them back fast. A volunteer will keep the items for a while, details will be announced after Convergence here:
http://convergence.org.nz/lostfound
Unclaimed items will be disposed of eventually.

Co-creation:

 Co-created events and workshops are always welcome, especially for children. Bring creative things, and if you wish to offer a workshop please email workshops@convergence.net.nz .

Wearable light art:

 This year there will be a workshop making wearable arts with LED light strings. Some strings will be available for participants, but if you can, please bring your own lights and accessories, and join the creative fun and contribute to the visual feast. You'll be encouraged to wear your artwork as much as possible; please bring spare AA batteries.

Dress-up:

 There will always be opportunities for dressing up, so bring whatever funky, outrageous, colourful things take your fancy.

Expectations:

 It's often best not to have too many, and to go with the flow instead. Convergence is different every year so no-one can predict what experiences you'll have. Take responsibility for your own experiences too.
If you wish to be kept updated before Convergence and during the year, make use of the Convergence Notices.